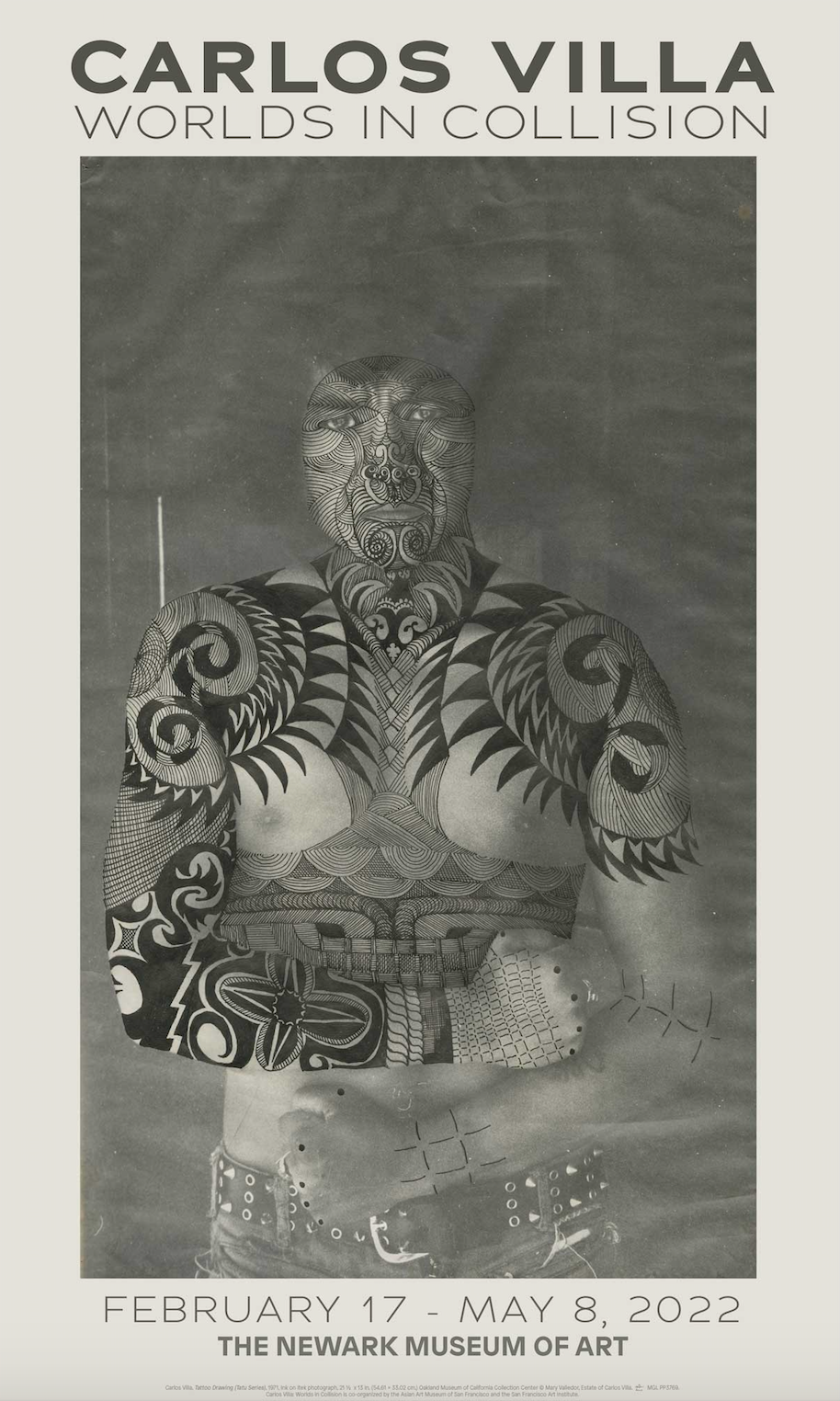 Carlos Villa: Worlds In Collision Exhibition Poster
Discover the essence of Carlos Villa's groundbreaking artistic journey with our exclusive exhibition poster. This 18x30 inch poster celebrates the life and work of Carlos Villa, a central figure in California's multicultural activism during the 1970s. Villa's artistry, rooted in non-Western cultural alliances, is a testament to his pioneering spirit in the world of modern and contemporary art.
Key Highlights:
Artistic Vision: Carlos Villa's work, characterized by the use of feathers, bones, and tattoo iconography, reflects his deep exploration of non-Western cultural influences and their intersections.

Filipino American Legend: Villa is hailed as the preeminent Filipino American artist, revered for his groundbreaking approaches, and celebrated for his profound influence on countless artists. Yet, his legacy remains a hidden gem to many enthusiasts and scholars of modern art.

Evolution of Expression: Trained as an abstract expressionist at the San Francisco Art Institute in the 1950s, Villa's artistic journey evolved over time, addressing pressing issues of ethnic and cultural diversity. He emerged not only as an artist but also as a theorist, curator, and organizer, playing a pivotal role in "Third World" and "multicultural" international art movements.
Product Details:
Size: 18" x 30"
Origin: Printed in the USA
Exhibition Information:
This exclusive poster commemorates the 'Carlos Villa: Worlds in Collision' exhibition, which was on view at The Newark Museum of Art from February 17, 2022, to May 8, 2022. Co-organized in partnership with The San Francisco Art Institute and the Asian Art Museum, this exhibition poster allows you to take home a piece of this transformative artistic journey.
Embrace the rich cultural tapestry and visionary artistry of Carlos Villa with this stunning exhibition poster, available exclusively through The Newark Museum of Art's gift shop. Add it to your collection today and celebrate a legend in the world of contemporary art.